'Because
everybody deserves
a meaningful life'
Dr Joel Vos PhD MSc MA CPsychol FHEA
Academic
Psychologist
Philosopher
Researcher
Lecturer
Existential therapist
Public
Author
Speaker
Artist
IMEC Chair
IMEC conferences
IMEC Art & Music
IMEC Support Groups
IMEC Training & workshops
IMEC Publications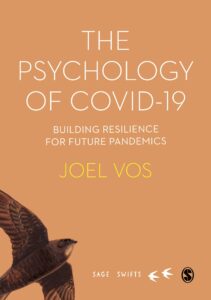 NEW!!! The Psychology of COVID-19: Building Resilience for Future Pandemics
2020. SAGE Swift: London.
The Psychology of Covid-19 explores how the coronavirus pandemic is giving rise to a new order in our personal lives, societies, and politics. Rooted in systematic research on Covid-19 and previous pandemics, this book describes how people perceive and respond to Covid-19, and how it has impacted a broad range of domains, including lifestyle, politics, science, mental health, media, and meaning in life. Building on this, the book then sets out how we can improve our psychological and social resilience, to safeguard ourselves against the psychological effects of future pandemics.
NEW!!! Systematic Pragmatic Phenomenological Analysis: Step‐wise guidance for mixed methods research
Counselling & Psychotherapy Research. December 2020.
Structural Pragmatic Phenomenological Analysis (SPPA) is a pragmatic‐phenomenological methodology integrating qualitative and quantitative research, offering a systematic, sensitive and specific guidance to developing a reflexive understanding of individual experiences and meanings. Applications of SPPA have previously been published, but no systematic overview and guidance. This article offers an overview and a step‐by‐step guidance of SPPA.
---
The psychology of COVID-19: Building Resilience for Future Pandemics
Video by Dr Joel Vos PhD MSc MA CPsychol FHEA joelvos.com The Psychology of Covid-19 explores how the coronavirus pandemic is giving rise to a new order in our personal lives, societies, and politics. Rooted in systematic research on Covid-19 and previous pandemics, this presentation describes how people perceive and respond to Covid-19, and how it has impacted a broad range of domains, including lifestyle, politics, science, mental health, media, and meaning in life. Building on this, the presentation then sets out how we can improve our psychological and social resilience, to safeguard ourselves against the psychological effects of future pandemics. More details can be found in the book 'The psychology of COVID-19' by Joel Vos, published with SAGE
---
---